Hvorfor godsvogne?
Beskrivelser
Observationer
Fotos
Model
Reference
Links
Godsvogne - Güterwagen - Freight Wagons
Velkommen til www.godsvogne.railorama.dk. Ideen med dette websted er at indsamle og præsentere beskrivelser, observationer og billeder af europæiske godsvogne, samlet i en stor database. Er du interesseret i at offentliggøre dine egne godsvognsobservationer og -billeder på nettet kan du gøre det her. Se nærmere detaljer her.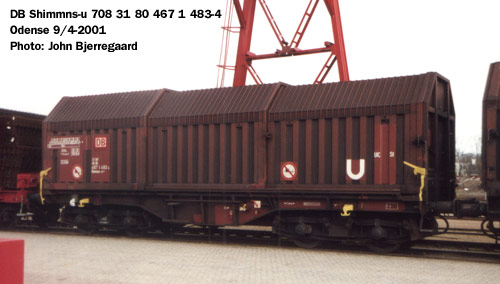 Die Idee dieser webseite sind Beschreibungen, Observationen und Bilder von Europäische Güterwagen zu präsentieren, gesammelt in einer grosse Database. Falls Sie interessiert sind, Ihre Observationen und Bilder hier zu publizieren, bitte siehe details hier.
The idea of this website is to present descriptions, observations and photos of European freight wagons, gathered in a large database. If you want to publish your observations and photos on this site, please see the details here.

Seneste opdateringer:
17. marts 2005: Mulighed for søge-afgrænsning i observationer.

12. marts 2005: Nye fotos. Observationer er nu delt op i flere sider, for at forbedre download-tiden.
Seneste observationer:
Seneste fotos:
Fatal error: Uncaught Error: Call to undefined function mysql_connect() in /customers/b/c/9/railorama.dk/httpd.www/godsvogne/index.php:113 Stack trace: #0 {main} thrown in /customers/b/c/9/railorama.dk/httpd.www/godsvogne/index.php on line 113